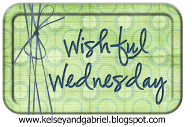 I have never been the type of girl that is overly concerned with her looks. Maybe I should be a little
more
concerned. However, I have always wished my hair were better. It is straight, dishwater blonde in color, fine and doesn't hold a curl for CRAP! Except for the hairs around my face that are always curly. What the heck? I have straight hair but have to use a straightener just around my face... I call that odd. Anyway,quite frankly it usually ends up in a pony tail and never comes down. That's just the way it is. Especially because I've been in some sort of food service environment for a while and I don't know about you but I hate to see food service people with their hair down. Yuck!
Kelsey over at
Seattle Smiths
hosts Wishful Wednesdays and this week is all about hair.
The top qualities I wish for are...
1. Thick
ER
hair that will hold a curl! I emphasize thick
ER
as I don't want too thick of hair either.
2. That thing called... Volume! And LOTS of it please!

3. The option to be a redhead or brunette... so sexy! I have blonde eyebrows so my options are limited in the dying of hair department.
I would SO take Jessica Simpson's hair, any day. However, I also love the locks of Debra Messing, Marcia cross and Eva Longora Parker!
Hop on over to
Kelsey's
blog to check Wishful Wednesdays out!