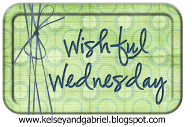 Kelsey
is hosting Wishful Wednesday again this week and this is the topic:
'I wish' .... I could have worn the gown that ______ wore at the 67th Annual Golden Globes Award"
It is kind of a coincidence that I actually saw a lot of the Golden Globes on Sunday because usually I don't watch award shows. But, I was at work and there are like six big screens on so it was kind of easy to catch a few glimpses!
If I could have worn anyone's dress I think I'd have to go with Sandra Bullock's. I love her and I love purple... so that decision was easy! I totally disagree with people that say she's past her prime. I think she looks awesome and the movies that she's done this past year have been good. The color of the dress looked great on her and did anyone catch the back of the dress? Gorg! :)
Anyway, play along if you'd like!
Happy Hump Day!