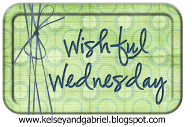 Once again,
Kelsey
has posed a good question for Wishful Wednesdays...
'I wish' .... I had the startup funds to build that company I have always dreamed about, and it would be _____!
Staying with the restaurant theme of our current life, I want to open a casual dining establishment of some sort... The basic idea behind the restaurant would be kind of buffet style (but not the ICKY buffet style.) There would be staples on the menu that were constant: home made soup of the day, basic sandwiches and salads and then other menu items that would change. For instance, I think it would be fun to have each night of the week a different theme.
Mondays: Baked Potato Bar
Friday/Saturday: Baked Potato/Pasta Bar
Sundays: CLOSED (THANK GOD!)
So, it's really a "bar" themed thing... so people can enjoy all of their own tailored food! C'mon, it's a good one.... right? I promise it won't be icky and nasty like a buffet. In fact, I think the whole "bar" thing won't actually be physical. It'll just be in the menu and then people choose all of the different options. The Baked Potato idea is definitely my favorite! I'll take... grilled onions and mushrooms with swiss OR broccoli and cheese sauce on mine, thanks! What would you want on your baker?
In addition to the food we would offer a cozy environment that would house local musicians and even artists to display their work. Luckily, here in Olympia we tend to be pretty artsy fartsy and there are quite a few places that are similar to what I'm thinking... But, they don't have the dang potato bar!!! :)
My second idea is one of the first things to come up when the Mr. and I discuss if we were to win the lottery. We both would like to open a recreational center of sorts for kids of all ages. This idea stems from Brandon having worked one of the local city's summer programs for several summers a while back. He had a blast taking the kids hiking, rock climbing, camping and all of that fun outdoor stuff that a lot of parents don't get the extra time to do. The sad thing for him was that these camps can be so cost prohibitive for

SO

many parents. Some of the camps are hundreds of dollars per child, per week! That is SO crazy. I mean, I understand where the costs come from, but wouldn't it be great to have an organization that provides kids with outdoor options in the summer time and during breaks? I know that I'm about to sound OLD but it seems like things have changed so much in even the past ten years since I was a tween riding my bike with my neighborhood pals. The Xboxes, Wii's and computers have taken over!!!
So, those are my two ideas. A non-profit organization that keeps kids busy in our beautiful state and a cafe that has a baked potato bar! Unfortunately, I doubt we'll ever win the lottery! Dang it! What would your entrepreneurial wishes be?