Brandon turns the big two.five today.
Woah!
That's a milestone, right?
It's funny how he sees himself. He's really harsh on himself... I suppose we all are. I certainly don't want to me airing my man's dirty laundry... But sometimes I wonder what goes through his noggin.
All the while, I'm sure he does the same with me when I talk about my fat rolls for the eighth time during dinner.
Most recently he is down on himself for not being in a "career." Or, having not graduated from college. I have to find ways to nonchalantly remind him that while he may not be a scientist or professor, he provides for us and our "family" more than adequately. College pathways are shoved down kids' throats so early these days. I understand why and certainly agree with most of the reasoning. However, it also leads to a level of dissatisfaction or failure for those of our generation that haven't yet figured out their niche in life. I definitely have felt the crunch since I have been out of high school for over six years now (and have been in college 5.5 yrs of that 6) and am still working on my BA. Shhhh
! Don't tell anyone that! It's embarrassing!
I'm beginning to ramble, I know. I'm really good at rambling. My point is that Brandon is so successful in my eyes (as well as everyone else that loves him!) and sometimes I wish he could see what I do. He is a huge asset to our family's business and it literally would not be what it is today if he weren't a part of it. I know that the business will be missing a huge chunk when Brandon does in fact find his passion in life. He is a provider for our family, especially right now with me in school full time. I work my buns off too, but he has more earning potential than I do and I appreciate him sacrificing his time and energy so I can finish my degree. He puts in sixty hour work weeks nearly every week and that just isn't normal. I have a hard working man and for that I am
proud!!!
He doesn't read my blog and makes fun of me for having one to begin with... but I wanted to share my love for my man anyway! We are celebrating this weekend
BIG TIME!
:) I am working his lunch shift tomorrow while he gets an hour and a half massage *ahhh* and then spends the afternoon golfing with his parents. Then, we got our dinner/closing shifts covered and we are going out to the Melting Pot with friends of ours for din din! Then, Saturday we are headed to
Herron Island
to relax for the rest of the weekend in some friends' beach cabin! We're hoping to enjoy our lovely 70 something weather while kayaking or just combing the beach!
I figure we better take advantage of as much relaxing and time to ourselves before the chillin's arrive. You know, *someday.*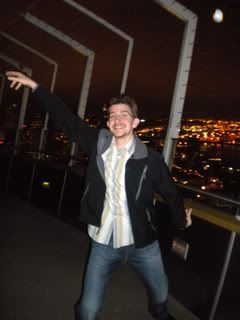 I love this picture because it shows what a goofball he is!!! I know, it looks a little like he may be a switch hitter... but I promise he was just being goofy! :)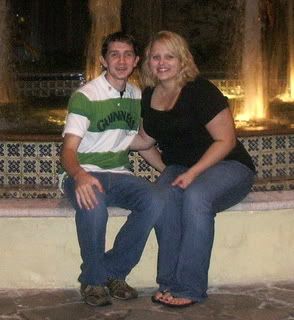 Love ya babe! Can't wait to grow many years older with you! :) Happy Happy Birthday!