Hello friends! I know I've been semi-absent...
Here's my list of excuses:
LA

BFF's

wedding is in one month!
LA

BFF's

second bridal shower was this weekend up here in WA so the weekend was jam packed.
We had a serious bridesmaid dress situation in regards to LA

BFF's

wedding. Um, we solved it... with THIS dress in Navy... it'll be just fan.freaking.tastic!
My Grandma's birthday celebration Sunday included lots of shopping at the "big city stores" such as

JoAnn

and

Kohls

... :) She lives in a tiny town!
My nephew is about to make his appearance
My BIL/

SIL

did a total remodel of their house... They started in November. Did I mention they both work full time and

SIL

is finishing her Masters this month? Or that my BIL did the entire remodel himself while working full time? Brandon and I have been helping them finish up loose ends and finish the nursery!

Yowza

!
I got to visit my cousin's new baby girl,

Isla

. :) What a doll!
I'm in my "finals" week of this session of school... Yikes!

Ok, on two Top Two Tuesdays... Favorite Names!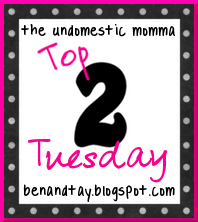 I just happened upon The Undomestic Momma today while blog browsing and I think I'll stick around! :)
We have talked about baby names for the entire seven years we've been together... They've changed over the years but there are a few that have always stuck in our minds. Girls names are by far easier for us to pick... And I kind of think we'll have girls when that time comes anyway.
Girls: Alivia, Taryn and Kara are our top contenders. The middle names we'll choose from are: Jeane, Kristine, Elizabeth, Irina & Lauren. I am pretty set on using a family name as a middle name and those are my favorites! :)
Boys: Tristan, Tyler, Owen & Andrew. My favorite is Andrew right now. I LOVE the name Drew for a boy and I think Brandon's favorite is Tristan. Now, middle names for the boy name is a difficult one. I still want to use a family names but I am not in love with the names we have to choose from. Here is the list of possibilities: Frank, Wayne, Lloyd, Harold, William, Michael, Jason, Scott & Blair. Or, we could potentially use my last name, Yarger. But, that doesn't flow very well!!! :(
Which is your favorite? Names are such a difficult task... Well, for me at least! I tend to be a little indecisive!!! :)
Happy Tuesday!