Linking up from
Katie's
Saturday Morning Scene linky!!!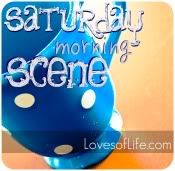 Today,
Shandy
and I are baking buddies!!! I found
this
recipe a couple of weeks ago when I was dreaming of food and couldn't taste a dang thing! I told
Shandy
that we HAD to make them! So, this afternoon we are baking some lovely sugar cookies and making the cinnamon roll pancakes!!! Ohhhhmigosh! They are SO delicious! Definitely may be tying my ultimate favorite breakfast splurge, french toast! If you have a special day coming up... make these!!!! They're delish! I have to give credit where due... I really didn't
make
them. I was busy making dough. So, Shandy made them and that's probably a good thing because I tend to walk away from things and burn them... HA!!! Here's a pic of them...
C'mon... that looks ah.maze.ing right!? We shared three. Hmm... Yeah, guess I won't be eating dinner! ;o) We are also making the cookies I have been planning to make for Nickolai's first birthday party next weekend. I can't believe he is one!!!! Anyway, we're making giraffes, monkeys and elephants! Shandy is making animal cookies and they're going to be frosted like
these
to look like the animal cookies! And I'm going to frost mine with royal icing and hopefully they'll turn out super cute! I will surely update you all! ;o)
Now if only Shandy and I could pop in a chick flick and enjoy the evening... Such is life! Work is a must! HA!
Hope everyone has a great weekend!